[Petition] We want sanctions on Myanmar's oil and gas revenues!
We want sanctions on Myanmar's oil and gas revenues!
Oil and gas revenues are funding the Myanmar military junta and its attempted coup d'etat during which it has killed over 1,300 people and arbitrarily detained over 11,000 people. Each day the junta continues to commit grave crimes, including crimes against humanity, yet Macron and Biden take no action over oil and gas revenues generated by companies including France's TotalEnergies and U.S. giant Chevron.
Myanmar's oil and gas revenues flow through a state-owned enterprise (SOE), the Myanma Oil and Gas Enterprise (MOGE), which is estimated to collect over USD 1.5 billion in oil and gas revenues this year, which is about 50% of the foreign exchange available to the junta. This means the junta's brutal operations are bankrolled by oil and gas revenues generated by international companies such as TotalEnergies, Chevron, and POSCO who risk complicity in these crimes.
The U.S. and E.U. imposed sanctions on other SOEs in Myanmar's extractives sector already because of the significant funding they provide the military junta. The interests of TotalEnergies, Chevron, and their governments mean those governments have effectively blocked sanctions on MOGE's larger and simpler revenues at the E.U. level and in the U.S. The responsibility for this ultimately lies with President Macron and President Biden.
John Sifton, Asia advocacy director for Human Rights Watch, said in a statement that, "If governments effectively sanction or suspend the natural gas revenue generated for the military junta, it will lose $1 billion a year being used to hurt Myanmar's people."
Companies and governments that continue to avoid taking action against oil and gas revenues are failing to deliver on their human rights obligations and "Do No Harm" principles. Failing to stop these revenues will undermine the pro-democracy movement, embolden the military junta to continue to commit grave human rights violations, and have severe humanitarian impacts for years if not decades.
The people of Myanmar have demanded time and again to stop the revenue flow from the oil and gas industry. Help support them by calling on Biden and Macron to sanction oil and gas revenues. The E.U., U.K, Australia, and Canada will then follow.
The campaign is co-organized by Korean Civil Society in Support of Democracy in Myanmar (Network in solidarity of 106 CSOs in South Korea) and Blood Money Campaign with the participation of 23 organizations including Association of Human Rights Defenders and Promoters-HRDP, Burma Campaign UK, Burmese American Millennials, Campaign for a New Myanmar, EarthRights International, ENVIRONICS TRUST, Freedom for Burma, Global Movement for Myanmar Democracy, Global Myanmar Spring Revolution, Global Witness, Human Rights Foundation of Monland, International Campaign for the Rohingya, Los Angeles Myanmar Movement (LA2M), LRDP, Milk Tea Alliance for Myanmar, No Business With Genocide, Progressive Voice, Publish What You Pay, Sitt Nyein Pann Foundation, Students for Free Burma, SumOfUs, Support the Democracy Movement in Burma, US Advocacy Coalition for Myanmar.
For more information
Human Rights Watch: How Oil Companies Help Fuel Abuses in Myanmar
Chevron is lobbying the Biden administration not to impose sanctions on Myanmar.
Myanmar's U.N. envoy tells U.S. lawmakers more sanctions needed
Shwe Gas Project, Gas Companies Must Support Democracy and Stop Flow of Wealth to the Military Junta
Financing the Military in Myanmar: Analysis of Gas Revenues
Myanmar public urges gas sanctions to stop military funding
How Big Oil in Myanmar Uses the Language of Human Rights to Justify Complicity in Atrocity Crimes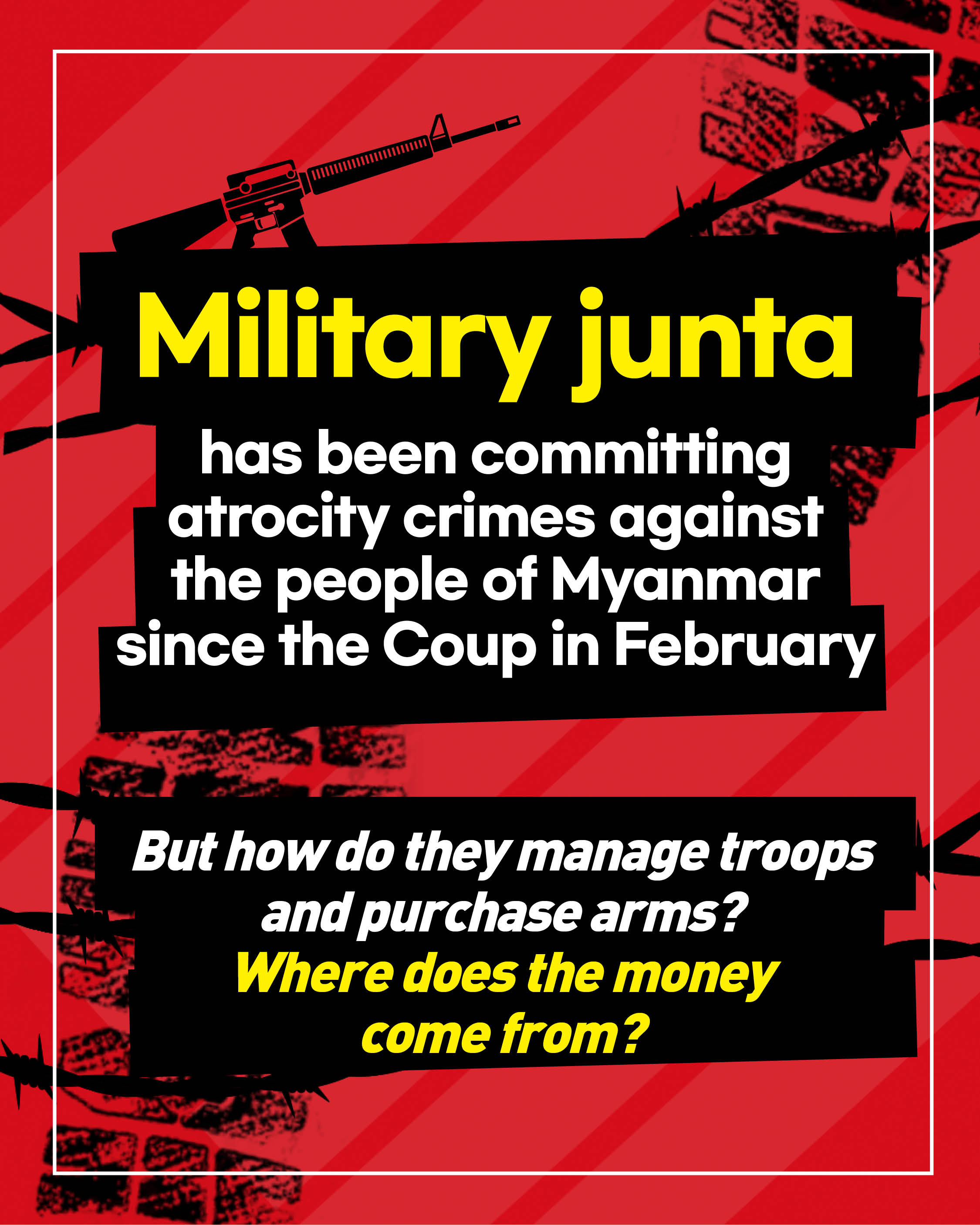 ---
---
공식일정 캘린더
---
실시간 활동 SNS
텔레그램 채널에 가장 빠르게 게시되고,
더 많은 채널로 소통합니다. 지금 팔로우하세요!